Tracking severe storms for the evening rush
Be weather aware today. Between 4:00 and 7:00 p.m., thunderstorms will move into the New York metro area. The storms could be severe.
The main threat will be damaging winds, where gusts could reach over 70 mph in spots. This could lead to downed trees, as well as airport delays and scaffolding issues. Be alert, especially if you're around construction sites.
Hail is likely too. These frozen raindrops could range from the size of a pea to a penny.
Heavy downpours are also likely with these storms as well. Watch for flash flooding, especially on the West Side Highway, Belt Parkway and FDR Drive.
Never drive or walk into a flooded area. You never know how deep it is. It takes a little as 6 inches of water to stall a car and 12 inches can float a vehicle.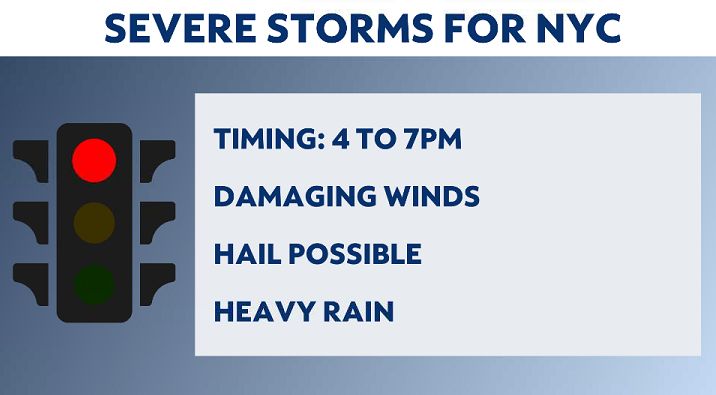 Also, be alert for frequent lightning. If you can hear thunder, you're in range of lightning..
Roof tops, parks and pools are the worst places to be during a storm. The safest place to be is inside and away from windows. Underground subway stops can be a good place to wait out a storm.
The storms are going to form ahead of a cold front that is moving in from the west and will move through in about 45 minutes.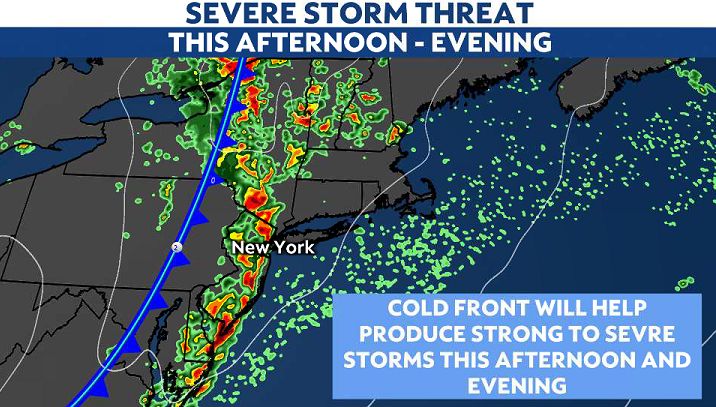 If you get a weather warning alert on your phone today, that means that severe weather is happening right now and you should be ready to seek shelter if the weather is extreme. A weather watch means that storms are possible.