Chunk of Sanibel Causeway falls into sea during Ian, cutting off Florida island where 6.3K live
At least three sections of the Sanibel Causeway were washed away by storm surge from Hurricane Ian, according to video from WBBH and WPLG, severing the Sanibel and Captiva islands' only connection to Florida's mainland.
The videos from the causeway show two portions of the ramp to both bridges washed away, as well as a stretch of roadway that crossed an island in the middle of the causeway.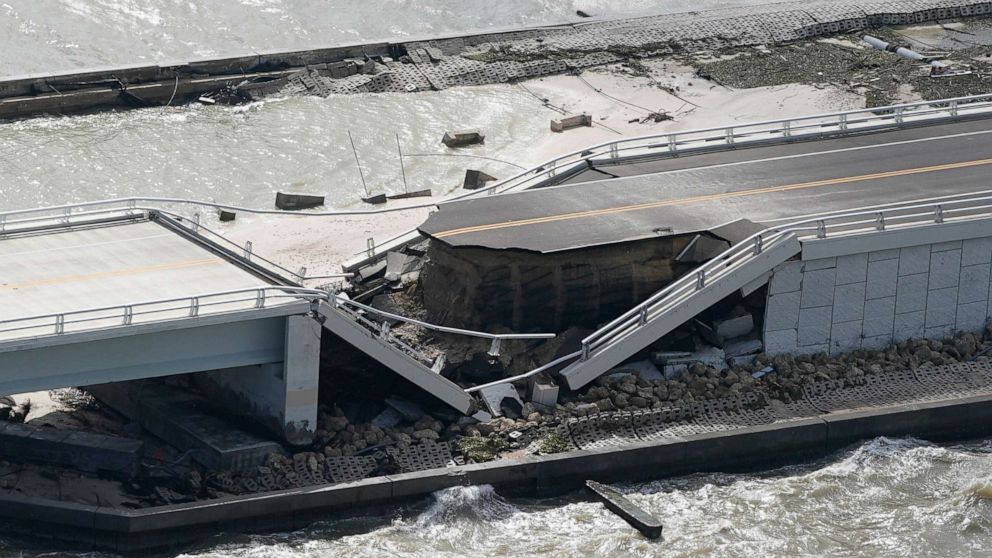 A portion of the Sanibel Causeway Bridge "was damaged/washed out," Lieutenant Gregory S. Bueno with the Public Affairs Division of Florida Highway Patrol told CNN. All lanes of the bridge are currently closed and the severity of the closure is listed as "major," according to Florida 511.
Law enforcement and personnel from the Lee County Department of Transportation are on scene at the causeway, officials said in an update Thursday morning, and bridge inspectors were working to asses all bridges in Lee County. Residents are advised to remain off the roads "unless absolutely necessary."
The county, which includes Fort Myers in addition to Sanibel and Captiva islands and Cape Coral, suffered "catastrophic damage" from the storm, officials said in their update, noting that 98% of the county remains without power.